Types of serviced apartments and who needs them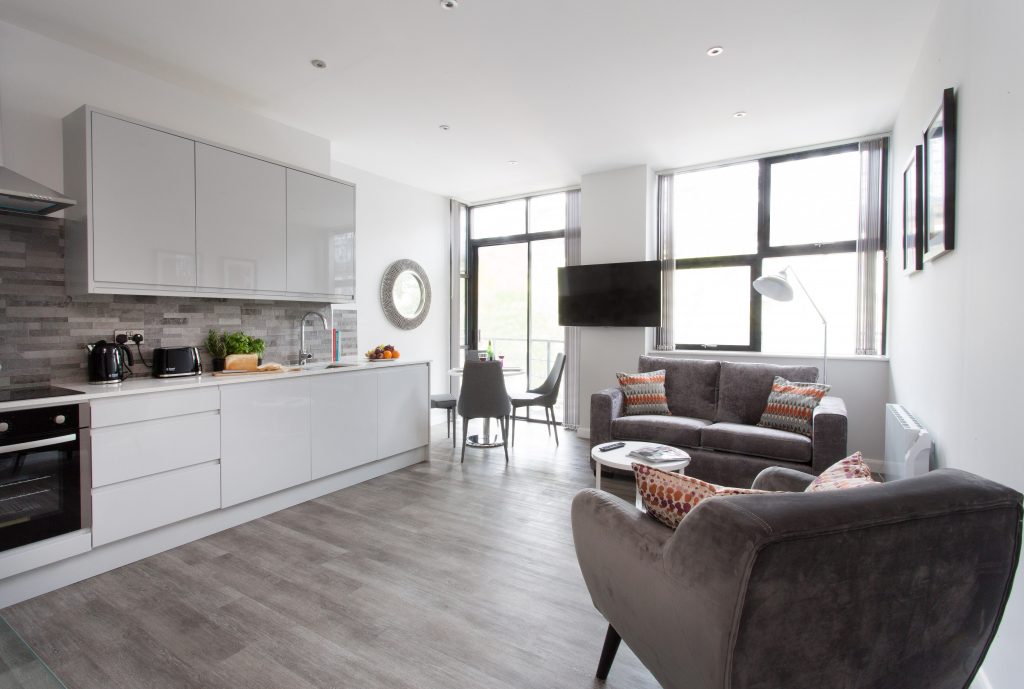 It is interesting to note some renowned hotels are now providing serviced apartments as an alternative to hotel rooms, which is understandable considering the comfort, privacy and flexibility they offer.
There are many types and sizes of serviced apartments available. If you are travelling alone you will probably find a studio or 1 bedroom apartment is sufficient for your needs – offering a living area with separate bathroom and fully equipped kitchen or kitchenette. 2 or 3 bedroomed apartments and penthouses offer more living space, usually with an additional second bathroom and often a sofa bed in the lounge area. These are a great option for families without having to have seperate, adjoined hotel rooms.  Colleagues or friends sharing can enjoy their own bedrooms and bathrooms whilst sharing the living spaces, this offers great value as apartments have a set nightly rate and are not charged on a per person basis.
Serviced apartments are an ideal solution for many needs
Groups  – A group of workers travelling for a project will find apartment accommodation a home from home for stays of more than week. The convenience of being able to cook your own meals saves extra costs and hassle on eating out as well as providing washing and ironing facilities. There are big financial savings on travel spend when compared with booking individual hotel rooms and extras.
Travelling families – A family with children and even pets will be better accommodated at a serviced apartment than a hotel. Washing and ironing facilities are a handy addition, not to mention the home living an apartment offers. High chairs and travel cots are usually available free of charge, saving you additional luggage hassles.
Corporate travellers – Corporate organisations will find serviced apartments an ideal accommodation option for employees who frequently travel for short to longer-term stays. As well as offering flexible terms, the convenience of a fully inclusive nightly fee often with discounts for longer stays, offers big cost savings. Having no deposits or contacts also means less 'red tape' and avoids you having to set up leases and utility bills.
Relocation – A serviced apartment is your best option if you are relocating and you need a base to settle while you search for your longer term home. Flexible terms with serviced apartments mean you can shorten or extend your stay as per your needs, even at short notice.
Temporary Accommodation – if you are moving home and need somewhere as a temporary stop-gap, serviced apartments have flexible terms with no deposits or contacts, similar to booking a Hotel but offer you much more space.
Business travellers – a serviced apartment allows a business person the privacy to relax and carry out their work in comfort. Dining tables double up as a great work space whilst the home from home feel and amenities means you can relax and unwind after a hard days work.
If you are looking for a serviced apartment Milton Keynes or serviced apartment Northampton, then your search has led you to the right place. Cotels Serviced Apartments provide the ideal base for all types of accommodation requirements.
You can check our availability and best pricing by going to our  on-line booking portal. If you can't find what you are looking for or need some help and advice you can call our friendly Reservations Team on 01908 308310 or e-mail us at info@cotels.co.uk
The concept of accommodation, especially in a bustling city like Derby, has evolved significantly over the years.

In a world where connectivity is no longer a luxury but a staple of daily life, the modern traveller's demands have evolved.

Derby, a vibrant city in the heart of the UK, boasts a myriad of activities catering to the busy businessperson seeking a harmonious work-life balance.